---
Realistic Fiction


Jacob Bleecker's Review of:
Salvage the Bones by Jesmyn Ward
Bloomsbury. 2011. Realistic Fiction

In Louisiana, people are constantly hit by hurricanes, but it was Hurricane Katrina that stood out, especially for Esch.

In this story, a fifteen year old girl, Esch, lives with her father and three brothers. Through
thick and thin, the siblings stick up for each other and support each other through their personal endeavors, such as basketball, dog-fighting (despite it being illegal) and more. However, when Esch discovers that she is pregnant, she hides her secret from her family in fear of being outcast. As is, the family has struggled. They are poor, and have a father, who is handicapped, trying to support a family of five. Now, Esch is about to bring life into the world with her future uncertain.
With Hurricane Katrina fast approaching, the family huddles inside, and it won't be long before the storm reaches. Besides the real hurricane, Esch's pregnancy is sure to cause chaos.
I recommend Salvage the Bones to anybody who may want to learn more about Hurricane Katrina or to anybody who needs an engrossing book about the battle of a teenage girl and her family. -JB 2/26/21




Erica Gorelik's Review of:
The After series by Anna Todd
Simon & Schuster. 2014. Realistic Fiction/Romance.

The After series by Anna Todd is an incredible book series. I got addicted to this series and it made me feel all sorts of emotions. There were twists where you would least expect them and each book gave me no choice but to read the other. I spent my days, without break, reading these books and it will forever be my favorite series of books.
After:
After dragged me in and wouldn't let me stop reading. It's an emotional rollercoaster and you can never know what is going to happen next.
Tessa is a girl who is just starting her freshman year of college. She has had her whole life planned out, but as soon as she is out of her mother's control and living with a roommate who is quite the opposite of her, things start to get a little bumpy. Attending her first party ever, she meets Hardin Scott. He makes her question everything. She now has to figure out what is most important to her and if the life she had set in stone is really the one that she wants, or if it is just a script written by her mom to make her succeed.
After We Collided:
After We Collided is the second book in Anna Todd's After series. As you finish the first book, you find out a shocking twist. Tessa is conflicted about everything now. Having risked her future and her relationship with her mother and previous "love of her life," she needs to figure out how to move past what Hardin has put her through. But she realizes that she can't stay away. Tessa is stuck between what was real and what was fake. She was betrayed and she doesn't know how she'll ever trust Hardin again. She soon hears about someone that hasn't been in her life in years, and she finds herself more confused and hopeless than ever.
After We Fell:
After We Fell is the third book in the After series. Once again, finding ourselves needing more after yet another unexpected twist at the end of After We Collided, we join Tessa and Hardin, and now even more people in their journey of betrayal and forgiveness.
Tessa struggles to figure out what she wants with even more conflicts having entered her life. Her father begs to be a part of her life again and she doesn't know what to do. Her battle between Zed and Hardin advances as things become more complicated. She seems to go back and forth between family, friends, relationships, and just about everything in this book. Hardin tries more and more to become a better person for Tessa, but is it too late? What will she do? Another book full of shocking twists, and you can never know what decisions will be made.
After Ever Happy:
After Ever Happy is the fourth and final book about Hardin and Tessa's story. This book brings you on a journey of who will come together and how. Tessa makes amends with people she has fallen out with and ends toxic relationships. So many people vanish from her life, and she now knows nothing. She gets stuck in figuring out what she wants for the rest of her life and who will join her for the rest of her life. Join Tessa for the final part of life after it all, especially Hardin - or will he somehow earn her forgiveness for the last time? -EG 2/26/21



Kendra Kodira's Review of:
Mad, Bad & Dangerous to Know by Samira Ahmed
SohoTeen. 2020. Realistic Fiction.

Countless setbacks drive Khayyam Maquet to spend her holiday in France, sulking and uninspired despite her enthralling surroundings. While vying to win an important art history competition,

Khayyam stumbles upon the perfect opportunity after meeting Alexandre Dumas, the descendant of a famed poet. By uncovering a trail of hidden clues alongside him, she connects with Leila, a mysterious, Muslim woman who lived during the 1800s. Leila has experienced a lifetime of tumultuous heartbreak, and Khayyam will eagerly discover secrets of the past in order to bring her story out from the shadows.

Khayyam and Leila's alternating perspectives create a well-balanced book, playfully mixing scholarly investigations and adolescent struggles. Samira Ahmed wields their unique voices to amplify the conflicts constantly faced by women and Muslim individuals throughout history. Although moderately slow, Mad, Bad, & Dangerous to Know follows Leila's life journey, which enlivens the novel with its zealousness and poignance. The character introduction feels confusing and mature scenes occur; however, readers will find Ahmed's novel overall an interesting, charming read.

Enthusiasts of Misa Sugiura's novel, This Time Will Be Different, will equally appreciate Mad, Bad, & Dangerous to Know as both stories showcase women of color rewriting history by fighting to make their voices heard. Other readers who lean towards mystery, historical fiction, or realistic fiction will love to read an engaging blend of all those genres in Samira Ahmed's thoughtful novel.



Jacob Bleecker's Review of:
Speak by Laurie Halse Anderson
Farrar, Straus, & Giroux. 1999. Realistic Fiction/Suspense.

Melinda, immediately upon entering 9th grade, recognizes that she is an outsider on her bus, in her classes, in her grade, and even in the entire school. Her ex-best friend mouths, "I hate
you," people laugh at her behind her back, and somebody drops food on her in the cafeteria. Humiliated by the constant isolation, Melinda is traumatized by being at school. Even after the first day of school, she is still cast off by her peers. But there's nothing she can do to stop the harassment.

It wasn't always this lonely. In middle school, Melinda had a flourishing circle of friends and was liked by most people. This shift was caused by an embarrassing experience at a summer party, which has led Melinda to complete solitude. As of now, nobody understands why she called the cops at that party. Her "nightmare," as she calls him, is only known as IT to Melinda, until she learns that his name is Andy Evans. She has yet to open up to anybody about some kind of traumatic experience that she had with him at the party. In need of any friend at all, she decides to tolerate the talkative, overly-exuberant new girl, Heather from Ohio. Regardless, Melinda is desperate to have her old friends and familiarity back.

Sadly, the only comfort Melinda can find is in her art class, where Mr.Freeman seems to be the only teacher that appreciates her work - or in an old, unused janitor supply closet that she renovates to help her hide from teachers. Melinda gives her teachers nicknames such as Mr. Neck and Hairwoman, and she would rather be drawing a tree than learning useless algebra. Constantly on her teachers' bad sides due to her lack of effort and attitude towards learning, Melinda earns more demerits than A's and B's. Even so, she is shy and quiet in class, and as ninth grade progresses, she starts to check out of life altogether. Melinda desperately wants to confide in anybody about losing her grasp on sanity, and she wants to share about her paralyzing nightmare, IT, but what will she do?

Available in e-book and audio formats through Libby/Overdrive.


Jacob Bleecker's Review of:
Let It Snow by John Green, Maureen Johnson, Lauren Myracle
Penguin Books. 2008. Romance/Comedy.
Let it Snow is a book with three short stories written by John Green, Maureen Johnson and Lauren Myracle. All of the stories, which are holiday romances, were compiled into an eye-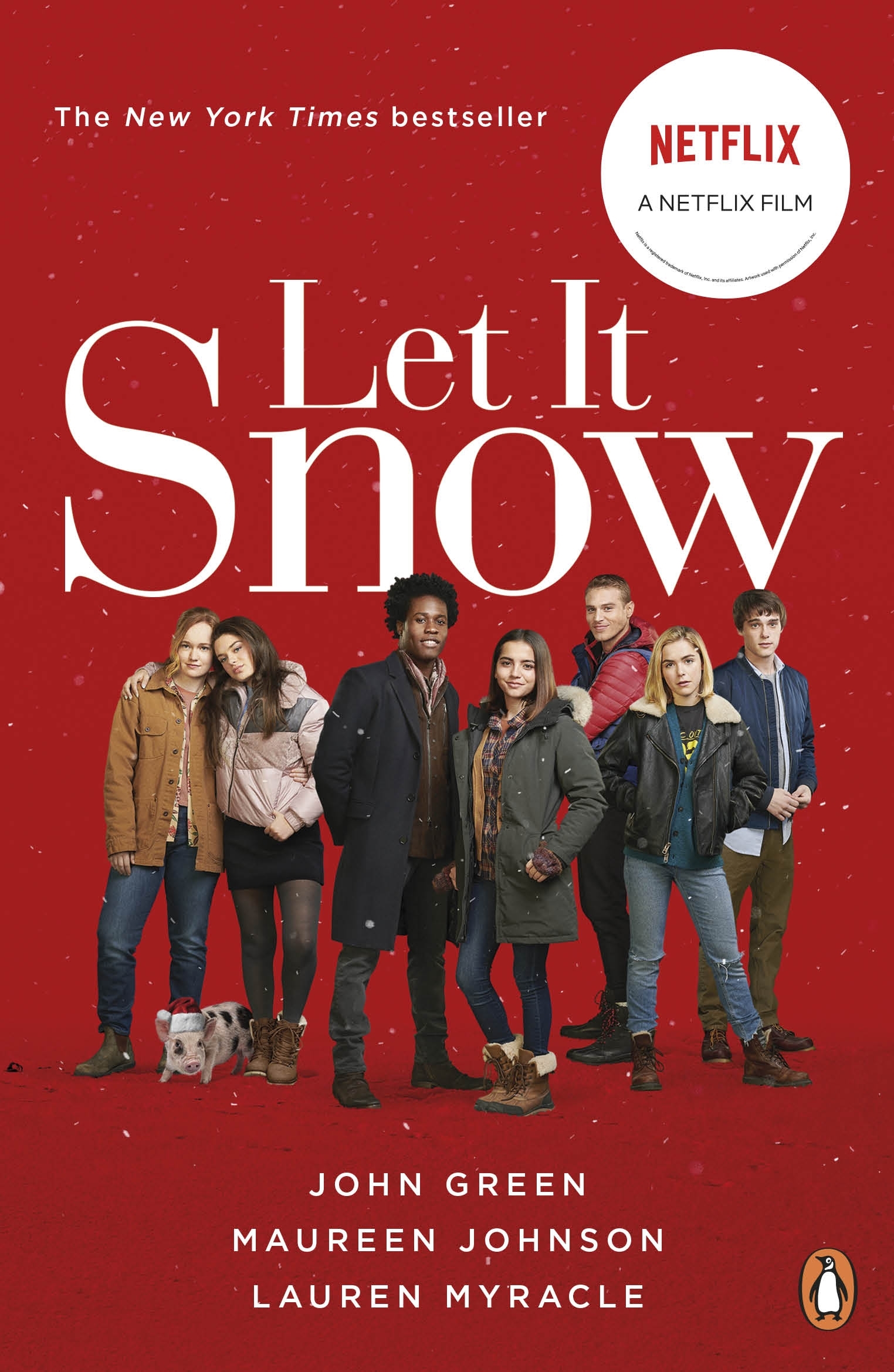 catching Netflix film in 2019. The stories are intertwined and have similarities and connections that come full circle near the end. Therefore, if you don't enjoy mysteries or waiting until the very end of a book for the complete solution, I would not recommend this book.
However, Let it Snow checks off many boxes, such as romance, action, comedy and suspense. In the first story, a girl named Jubilee must make the best of Christmas Eve when her parents are arrested, she breaks up with her boyfriend and her train gets stranded in a random snowy town. In the second story, three friends race to a waffle house to play Twister with a group of cheerleaders. Finally, in the third story, a teen girl, Addie, deals with a complex break-up while tracking down a lost pig for her friend. If any of these stories catch your eye, I highly recommend picking out this book.

Available in e-book and audio formats through Libby/Overdrive.



Jacob Bleecker's Review of:
Solo by Kwame Alexander, with Mary Rand Hess
Blink. 2017. Realistic Fiction/Mystery/Action.

Kwame Alexander, the author of sports related books such as The Crossover and Booked, teamed up with Mary Rand Hess to write Solo. Alexander, unlike many authors for teenagers,
writes his books in poems, making his writing quite refreshing and unique. Blade, the main character of Solo, is a high school senior trying to escape his life. His father was a successful music rockstar, but he turned into a struggling drug addict. In addition, his sister is trying to build her own music career, but isn't as good as she wishes. Lastly, Blade's mom is his one true friend growing up during his middle school years.

With his whole family an embarrassment to him, Blade can't wait to graduate high school so he and his girlfriend can move far away to college and ignore the mess behind them. However, on graduation day, things take a turn for the worse for Blade, and his life goes on a downward spiral. The only thing that may save him is a trip to Ghana in search of somebody. Solo projects the story of never giving up and believing in yourself, as Blade does time and time again. To find out how he recovers from falling apart in life, read Solo now.

Available in e-book and audio formats through Libby/Overdrive.


Jacob Bleecker's Review of:
Dear Martin by Nic Stone
Crown Books. 2017. Realistic Fiction/Action.

Justyce McAllister, an African American teen, is one of the best students at his school, Braselton Prep, but he is constantly challenged and looked down on because of his skin color. This includes an altercation in which he tries to help his drunk ex-girlfriend get home
safely, but his good deed goes terribly wrong when a nearby police officer sees this event and stereotypes Justyce, thinking he is carjacking his ex-girlfriend. Justyce spends the night in handcuffs at the jailhouse before being let out at dawn when he is proved innocent. Regardless, the event scars Jus, causing him to create his own experiment in which he decides to act like Martin Luther King Jr., rising up against the racism and discrimination ruining his town.

However, in this unlikely journey, Jus falls in love with a white girl on his debate team, going against his mom's strict rules. With this crush, SJ, Jus learns that he will have to be stronger than the people who try to bring him down. Some white people push him down so that Jus can't be at the "big kid's table," and some black people pull Jus down so that will join their gang and stay a member of the "hood" forever. When Jus gets accepted into Yale, his dream school, he knows it can only be right to keep dreaming. But when his life takes a turn for the worse in late January, how will he escape the nightmare? Read this gut-wrenching book by Nic Stone to find out exactly how Jus fights past the racism and bigotry still plaguing our country today. It is beautifully timed and a great read.

Great for fans of Angie Thomas' The Hate U Give, Dear Martin also has a companion novel titled Dear Justyce. Available in e-book and audio formats through Libby/Overdrive.



Jacob Bleecker's Review of:
Love & Gelato by Jenna Evans Welch
Simon Pulse. 2016. Realistic Action/Mystery.

In Love and Gelato, a teen girl, Carolina, must move from Seattle to Italy after her mother loses her cancer battle. Carolina, who goes by Lina, moves in with her father, Howard, whom she had never
met before, nor did she know he even existed. While in Italy, Lina has many highlights, such as discovering gelato and going sight-seeing. Still, Lina really doesn't want to be in Italy with her stranger father, and she'd rather be living with her best friend back in Seattle.

However, she changes her mind as her journey evolves because she must answer many difficult questions and crazy mysteries. Who is my real father? Am I in love, and with whom? Why am I stuck in Italy? What happened between Mom and Dad? As she continues to live in Italy, Lina answers these questions, but you must read the book in order to find out. The great mix of suspense and mystery make Love and Gelato by Jenna Evans Welch a must read.

Available in e-book and audio formats through Libby/Overdrive (through Boston Public Library collection).


Jacob Bleecker's Review of:
Everything, Everything by Nicola Yoon
Delacorte Press. 2015. Realistic Fiction/Romance/Drama.

Madeline Whittier, an 18 year old girl in Southern California, has lived in her house her entire life. HER ENTIRE LIFE. Maddy hasn't gone anywhere in 18 years due to a rare
disease, SCIDS, which makes her susceptible to an allergic reaction to anything and everything at any time. Due to being confined to the house's four walls, her only friends are her mom, Pauline, and her nurse, Carla. That all changes when a teenage boy, Olly, and his family move in next door. The two connect a few weeks after he moves in, and they become friends quickly. They communicate first by notes on their windows, and then by IM'ing, and eventually Maddy convinces Carla to let her see Olly if they are on opposite sides of the room and don't touch. Carla allows it, and Maddy sees Olly behind her mom's back. However, when Maddy takes her friendship with Olly to the next step, she finds herself lying and keeping secrets from her mom. Will she choose love and the world with Olly, or comfort and safety with her Mom?

Everything, Everything beautifully portrays how it is important to take risks and that you cannot live your entire life on the safe side. Maddy's life is comparable to that of millions during the COVID-19 pandemic, and it is evident that quarantining for 6+ months is nowhere near as bad as Maddy's situation. I recommend reading Everything, Everything if you enjoy drama novels, as this book had me on the edge of my seat. Also, author Nicola Yoon turned her book into a movie, which has been out since 2017. Check out both the movie and the book.

Available in e-book and audio formats through Libby/Overdrive.



Historical Fiction

Alex Troubh's Review of:
Once We Were Brothers by Ronald H. Balson
Berwick Court. 2010. Historical Fiction.

Elliot Rosenzweig, an old man living in Chicago, has it all. A family, money, and the respect of his society because of his donations to the Jewish community. However, when at the Chicago Opera House, Rosenzweig is confronted by a man named Ben Solomon, a former Holecaust survivor. Solomon accuses Rosenzweig of being a former Nazi, who took everything from Solomon and his family. Being a respected part of society, the accusations are almost
immediately dismissed. However, two bright and young lawyers work to uncover a tragic secret, buried in the destruction of the Nazi empire for 65 years.

Once We Were Brothers incorporates a mixture of characters' viewpoints and flashbacks that tell the tale of the story. The author is able to use a historical background and mix it with a novel rich in romance and betrayal. The book shows heartbreak in one of the most horrible events of all time: World War II. Once We Were Brothers will not let you put the book down, and when you do, you will have tears coming out of your eyes.

For anyone interested in World War II or looking for a romance novel, Once We Were Brothers will not disappoint. Fans of The Diary of Anne Frank and the movie Jojo Rabbit will find a similar mix of historical fiction and sadness. I am sure you will love this book!

Available in e-book and audio formats through Libby/Overdrive.

Science Fiction
Angel Liang's Review of:
Supernova (Renegades series, Book 3) by Marissa Meyer
Feiwel & Friends. 2019. Science Fiction

As the final book in the trilogy, Supernova is where our main characters are in neck-deep water. The series follows a young prodigy named Nova, who was raised as an archenemy to the Renegades, righteous heroes who failed to save her family. Or did
they? It all turns full circle as Nova starts to question her allegiances and uncover the real truth.
Absolutely amazing. I may be biased since Meyer is my favorite sci-fi-romance writer, but there is a reason for that. This book kept me on edge the entire time, and the final ending was sweet but bitter with the additional information provided by the author. Lots of plot-twists were in this book, making the ride all the more enjoyable. The epilogue was suspenseful and made me anticipate the next work from Meyer. I love this series because of the suspense; it keeps you wondering what comes next. The setting is also very interesting in this book, and imbalance of power is a key theme here.
This book combines spy work with sci-fi and a touch of sweet romance. Are you a sci-fi fan? Meyer helped define a whole other level with
The Lunar Chronicles,
and her
Renegades
trilogy is no different.
Available in e-book and audio formats through Libby/Overdrive.
Kendra Kodira's Review of:
Delirium by Lauren Oliver
HarperCollins. 2011. Dystopian/Romance
Ebook format.

In a world where love is referred to as a disease, Lena Calloway is determined to abide by every law of her tyrannical government until the day she has "the Cure." Lena eagerly
anticipates her upcoming procedure as she will be safe and longer worried about getting sick, like her mother. However, with four months until her treatment, Lena meets Alex, a warm yet mysterious boy, and soon she rebels against the government, each time for just one more moment in her life filled with love.
The intricacy and detail of the dystopian society that author Lauren Oliver fabricates leads to the novel being a truly gripping tale. The plot, albeit somewhat confusing and mature, includes various surprises and backstories to keep readers engrossed with the novel for hours. Each character has great depth and thought woven into them, causing their experiences to feel authentic and emotional. Tears may be shed and lessons learned by the poignant themes of love, loss, and the heartbreaking resolution. Delirium's essence raises questions about the belief once expressed by Alfred Lord Tennyson: "Tis better to have loved and lost than never to have loved at all."
Avid lovers of both Shatter Me by Tahereh Mafi and Marie Lu's novel Legend will unquestionably enjoy Delirium through the comparable dystopian setting, fast-paced plot, and a love that, despite being prohibited, is deeply fought for.

Available in e-book and audio formats through Libby/Overdrive.

Zayna Cheema's Reviews of:
Hunger Games trilogy by Suzanne Collins
Scholastic. 2008-2010. Dystopian Science Fiction.

The Hunger Games:

The Hunger Games is about a corrupt, post-revolution nation called Panem. The book details how the Capitol instills fear into the 12 surrounding districts by having an annual deathmatch with 24
tributes, from ages 12 to 18, selected from the districts. The story follows the perspective of Katniss Everdeen and how she volunteers to take the place of her sister, Prim, who was originally selected for the games. The writing is very detailed and vivid, with an intriguing and enthralling plot. I enjoyed how the characters and their emotions were portrayed in this book, and how well the author illustrated a corrupt nation. Since it contains dark themes of death and torture, I suggest that children above the age of 12 should check out this book, if they have not already.


Catching Fire:

Catching Fire is the second book of the Hunger Games trilogy by Suzanne Collins. I believe that it was not as great as the first book, but it provided yet another captivating story with many plot twists. It successfully displays human emotion and trauma. It also shows how a corrupt government responds to revolutionary acts in the districts that were incited after Katniss' act of defiance in the first book. I recommend this book if you enjoyed the first, but since the dark themes continue, proceed with caution if you are sensitive to such elements.


Mockingjay:

Mockingjay is the final book of the Hunger Games trilogy. Bluntly, this book was not my favorite. The plot was not as structured and detailed as the first book, and it lacked the development we read earlier in the series. It provides an ending to the series, but it was not satisfactory, in my opinion. The ending and plot aside, the book was still well written and portrayed the emotions and mental states of the characters well. Because I was so curious I felt I had to read the third book, so if you enjoyed the first books in this series, read Mockingjay, but do not have high expectations.

Available in e-book and audio formats through Libby/Overdrive.


Alex Yang's Review of:
Ready Player One by Ernest Cline
Crown Publishing. 2011. Science Fiction.

Five years prior to the novel's events, multi-billionaire and pioneer of world-shaping virtual reality technology James Halliday dies, marking the commencement of a worldwide, open-source virtual egg hunt to inherit his vast fortune as well as sole proprietorship of the virtual
reality-scape known as the OASIS. Ready Player One shadows the painfully average 'Gunter' (egg hunter) Wade Watts, a late teen and uber pop-culture nerd, as he unexpectedly overtakes the entire world on the leaderboard. Along the way he faces the obstructions of abject poverty, domestic contention, the corporate underworld, and the most challenging puzzle of teen romance.

The whole premise, set in a digital sandbox otherworld, is something of a blank canvas for a science fiction author. The author's choice in creating this dystopian future as a sort of cautionary tale - warning against over-indulgence in real-world escapes - means the otherwise limitless possibilities to OASIS technology must be grounded in the realm of plausible reality. In other words, with each walking step the protagonist makes there peevishly follows a multitude of questions warranting detailed explanation. For the most part the author responds to this demand, allocating the first chunk of the novel to a vivid history of modern culture and answers to sell the premise to even the most uninitiated reader. Still, exposition and the saturation of 20th century pop culture - courtesy of Wade's Gunter persona - never feels burdensome (despite flying over my head) even at the slowest in the book's sequence. On the same note, the speaker has a penchant for language and leaps that assume familiarity with prerequisite tech and video game jargon, coming off as slightly partisan; the reader's experience may be impacted depending on their background knowledge.

Consistently at its best, the action of the novel rapidly grows more intense and remains engaging (albeit ex-machina at times) especially with the introduction of IOI, a villainous corporate entity. This, coupled with Wade's ostensible and hyperrealistic adolescence as conveyed through his informal, cluttered storytelling, slang and emotional peaks, make for a thoroughly entertaining read. While the core of the book's action is robust, a handful of subplots introduced throughout the pages feel underutilized and incongruous, notwithstanding profound allusions and facets on our protagonist. Whether or not this serves as a self-aware remark on societal neglect or something else completely, the inconclusiveness of it all comes off as outright dissatisfying.

Very rarely does one stumble upon a story based in video games and even more uncommon is one that succeeds in creating a functional narrative. Ready Player One far exceeds the criteria and maintains originality in an albeit difficult-to-fathom virtual reality. Those interested in reading the book should watch the film by the same name, preferably before reading the novel as the major events of the movie differ from those in the book. The film thus preserves the original's novelty while skillfully visually bringing the shared setting to life.

Available in e-book and audio formats through Libby/Overdrive.


Fantasy
Angel Liang's Review of:
Shadow and Bone by Leigh Bardugo
Henry Holt. 2012. Fantasy.

Shadow and Bone, by Leigh Bardugo, is the first book to the trilogy called "The Grisha-verse." In the world of Shadow and Bone, there exist Grishas, Darklings, and volcras. In this
world, humans, Grishas, and the Darkling alike remain at the mercy of the Shadow Fold, or the Unsea. Cutting across the land of Ravka, a swath of darkness bleeds through the land, giving volcras, monsters of the dark, free reign. Alina and Mal were just two ordinary orphans taken in by a Duke. Soon they must make the journey across the Unsea, hoping to pass with their lives. Crossing with them are the magical Grishas who can wield fire, summon wind, and a lot more. The Darkling, the second most powerful person in Ravka, leads them all. When the volcra attack Alina's best friend, Mal, something is unleashed from Alina.

Suddenly Alina is thrusted into the glamorous lifestyle of the Grisha, and the Darkling himself gives her his undivided attention. She receives special training to harness her abilities, learning more about herself everyday. Coined as the "Sun Summoner," Alina learns that she might be the key to destroying the Shadow Fold in Ravka entirely. However, Alina soon learns that the Darkling has plans of his own, completely different then what he has been telling her.

After reading The Cruel Prince, I knew that I had to read the second recommended book from my friends. If you're a lover of that book or fantasy in general, you'll absolutely enjoy this one. I love the lore and world building, just like The Cruel Prince, and I can't wait to continue the series!
Available in e-book format through Libby/Overdrive.
Angel Liang's Review of:
The Cruel Prince by Holly Black
Little, Brown, & Co. 2018. Fantasy.

Jude is human. Human, in the land of Faerie, where there are pixies and elves, goblins and trolls, and, the most terrifying, the children of Gentry. Jude has never lived a fortunate life;
with her parents murdered by her adopted father, she has always been forced to adapt. For the entirety of her life, Jude has been fighting against the children of gentry. Mocked for being mortal and powerless, Jude finds an opportunity to finally gain her spot in the Court, Faerie royalty. Now, Jude knew that being one of the prince's spies before coronation will be dangerous, but she would have never foreseen what true power she would gain after it. Now, with the entire kingdom in her hands, how will she rule?

This book was recommended to me by a friend, and I made sure to thoroughly thank her. I absolutely love this book and am very excited to read the next book, The Wicked King. This book's strong suit is definitely the world building and fantasy elements. The plot begins to take off later on in the book, but what drew me in was the meticulous world building Black does. There are descriptions of characters, and every paragraph feels like you are being immersed in this magical land. The plot has so many twists and turns, but there are no sudden or random plot twists, which I am surprised and pleased with.

If you are a fantasy reader, you will absolutely adore this book. To people who are looking for a new or interesting plot line, I am sure you will enjoy this story as well.
SERIES UPDATE BELOW (MAY CONTAIN MILD SPOILERS):
Angel Liang's Review of:
The Wicked King by Holly Black
Little, Brown, & Co. 2019. Fantasy.
The Wicked King
by Holly Black, is the 2nd book of her "Folk of Air" trilogy. In this continuation of
The Cruel Prince
, Jude has now found herself at an even deeper crossroads. Except each and
every road has its thorns, and there is now a thorn digging deeper into her side as she chooses. When Cardan became king, Jude knew that it would be difficult to keep him on the throne. However, with each passing day, it seems like there are more and more schemes against the High King. Queen Orlagh of the Sea is now declaring war with Jude as her prisoner, and that's not even the worst of it. Beneath her schemes there is a spy who is close to Jude, intent on tearing her down, brick by brick.
I'm a huge fan of Holly Black so I'm definitely biased, but I think I have discovered a new favorite writer. The way Black crafts this fantasy world is incredible; it feels like you are discovering something new every page turn, but you are not a step behind. Granted, sometimes it does feel a little chaotic with the emergence of random servant characters, but the plot is always at the core of the book. I especially love this book because of the build-up and I am so excited for the last book. The plot twists are strong in this one, and I just know that the 3rd book will be a good ending. Like the last review, if you are a fantasy reader, I strongly recommend you read this. If you're a romance reader like I am, I also recommend this! It isn't too romantic, but the themes are there, and I'm sure you will enjoy the thrill of the plot. Kings, queens, all of that medieval goodness along with the sugar of fantasy wrapped up in a neat package is the analogy for "Folk of Air."
This series is available in e-book and audio formats through Libby/Overdrive.



Vincent Chen's Review of:
Harry Potter and the Order of the Phoenix by J. K. Rowling
Scholastic. 2003. Fantasy. Hardcover.
After four encounters with the feared Lord Voldemort, Harry Potter is still shamed by the
Ministry of Magic and most of the wizarding world. Apart from the criticism coming at him, he faces other challenges from his fifth year at Hogwarts, including the new Defense Against the Dark Arts teacher, the condition of the Gryffindor quidditch team, and the upcoming end-of-year exams. But the biggest thing on Harry's mind is the mysterious door at the end of a dark corridor of his every dream. As the year flies by, Harry and his friends learn more about their enemies and stand strong against troubles together - even when pure evil arrives.
The fifth novel in the Harry Potter series is full of twists and turns that take the reader's emotions for a ride. One can feel Harry Potter's anger whenever he's sentenced to detention or his fear at the mention of death. The author's use of language in the novel creates incredible mental images that the reader will refuse to set aside, even when the novel ends.
Harry Potter and the Order of the Phoenix will be an interesting read for fantasy readers who have also read the Percy Jackson series and wish for more action-packed stories. Readers who have already begun the Harry Potter series will find this book an excellent sequel to the magical action of the first four books.
Available in e-book and audio formats through Libby/Overdrive.
Michael Wang's Review of:
Harry Potter and the Half-Blood Prince by J. K. Rowling
Scholastic. 2005. Fantasy. Hardcover.

It's Harry Potter's sixth year at Hogwarts School of Witchcraft and Wizardry. In this chilling and shocking addition to the series, Harry's life becomes a lot more complicated. He is taking on the responsibility of the Quidditch Captain of the Gryffindor team, while
spying on the ever-so mysterious Draco Malfoy, and with the help of Professor Dumbledore, he dives into the depths of Voldemort's past. Meanwhile, Voldemort and his Death Eaters wreak havoc across the country, seeking destruction everywhere. And who is the mysterious Half-Blood Prince whose writings in the old Potions textbook guide Harry into success - and yet lead him into deep trouble? Finally, the story comes to a shocking closure that leaves readers dumbfounded (at least it did for me).

The Half-Blood Prince is my favorite book in the Harry Potter series because it balances mystery, action, and a rich plot without ever making it boring. There is also the typical drama you see in teenagers that makes the story entertaining. Even though romance is not what J.K. Rowling really intended the focus to be, it adds to the plot in an interesting way. Snape becomes increasingly fascinating, and Professor Dumbledore is the star of the show. I highly recommend this book to all readers because it's not just about magic, but has depth and a great story line. 4.5/5 Stars
Available in e-book and audio formats through Libby/Overdrive.
Angel Liang's Review of:
Howl's Moving Castle by Diana Wynne Jones
HarperCollins. 1986. Fantasy.

As the eldest of three sisters, Sophie never expected her life to be particularly interesting or successful. After all, she was the eldest, set to inherit her father's hat shop. Unfortunately, Sophie did seem to fail at everything she tried to do, and soon her boring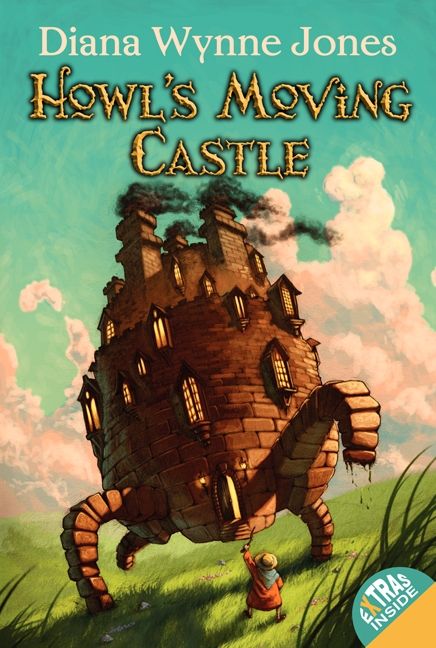 life would be changed forever after her encounter with the fearsome Wizard Howl, who was rumoured to eat girls' hearts and suck the souls out of them. After being cursed by the Witch of the Waste, Sophie has no choice but to chase Howl's moving castle for the hope that he can break the spell. While living in the castle, Sophie realizes that both Howl and her may not be what they seem on the outside.
This book has distinctly different writing from what I usually read. I can only sing high praises for the imagery and vocabulary used! However, it sometimes does get confusing and boring, if you aren't used to reading classic-y writing like this. The story's plot is a little all over the place, so it was hard to follow at times. I enjoyed the character development from Howl and Sophie, but unfortunately, the plot made it difficult for me to understand. Overall, I think I actually might prefer the movie over the book this once. I loved the Ghibli film, but it left huge gaps in information, so I read the book to see if it filled those in. It definitely did, and I'm glad I read it!



Set in the same faerie universe as the "Folk Of Air" trilogy, this time the knight of the story is not Jude, but another mortal girl, although she is almost as accustomed to faerie as our other main
character. In The Darkest Part of the Forest, Hazel has always been surrounded by magic and faeries. Growing up in Fairfold, it was a local thing to keep grave dirt in your pockets and turn your socks inside out. When there were disappearances and strange deaths, the local townspeople of Fairfold knew it was the fey preying on naive tourists. There's another strange thing about Fairfold. In the middle of the forest lies a casket, not made of glass or metal, but unbreakable. In the casket lies a boy with horns, the "horned boy" as the locals called him. No one knew who he was, only that he was not mortal.



Hazel has always grown up surrounded by magic, but what happens when she finds herself not knee deep, but drowning in it? With the horned boy free and a strange monster attacking the locals, will Hazel once again be able to save Fairfold? As Hazel stumbles through riddles and muddled memories, she starts to uncover more truths about herself, most of which were better off forgotten.





I read this book as a continuation of "Folk Of Air," and loved it! It's more of a short story compared to the trilogy but I still believe that the plot was well developed and had good rising action. I also love how the author included LGBTQ+ representation as a romantic pairing! It's amazing to see how inclusive Holly Black is with her romance. I'm also very impressed at the amount of lore Black has included in

The Darkest Part of the Forest, along with the riddles! Once again I have been supremely fed top-tier content by Black, I can't wait to read more of her books.
Available in e-book and audio formats through Libby/Overdrive.
Kendra Kodira's Review of:
The Song of Achilles
by Madeline Miller
Bloomsbury. 2011. Fantasy/Mythology.
Audiobook.
After being exiled at a ripe age by his father from his country, Prince Patroculus finds no solace or true home in the new land of Phthia. From the intrigue and mystique surrounding him, Patroclus
slowly befriends Achilles, a young demigod prophesied to be the best warrior of his time. As the boys grow, a budding love develops between them as well, keeping them in constant company throughout countless journeys. Despite immense hardships, Achilles and Patroclus are willing to fight for their love against bleak foretold fates and time, even if by doing so all that they both cherish may soon be lost.
The ingenious retelling of famous Greek myths, which centers around the bloody Trojan War, will immerse readers in a world of exhilaration and allure. As the novel progresses, the fascinating character development of both Achilles and Patroclus is revealed as they discover secrets about the sometimes unfair nature of humans and the world. In spite of a few uncomfortable scenes, mature concepts, and being a bit of a longer read, T
he Song of Achilles
renders a tragic conflict between choosing glory, destiny, or love. Even without the emotional impact of listening to the audiobook, Miller's conclusion will deeply move readers, who - although knowing the grim, fated ending from start - still will be forever transformed by the poignant sense of loss.
Followers of the
Percy Jackson & the Olympians
series by Rick Riordan will absolutely adore
The Song of Achilles
from the shared, imaginative world of Greek mythology as both authors plunge readers into the same experience of a rollercoaster of thrilling escapades.
Six of Crows
fans who relish Leigh Bardugo's compelling fantasy aspects and touching themes will love witnessing similar concepts in
The Song of Achilles
as well.

Mystery, Horror, & Thrillers
Alex Troubh's Review of:
The River at Night by Erica Ferencik
Gallery/Scout Press. 2017. Adventure/Horror/Psychological Thriller.
Win has a hard and lonely life. She is not married, her brother committed suicide, and her friends think she is scared of everything. However, when her wildest friend Pia decides to
book a whitewater rafting trip in Northern Maine, Win decides to suck it up and go. Throughout the journey Win feels doubtful about going on this trip. Soon it is too late, as nature takes over and proves to be just as psycho (unpredictable) as the people that live in the area.
After reading this book, I would most likely categorize it as a horror novel. However, it also incorporates adventure and decision making. The author, Erica Ferencik makes your head spin with all the action in this book.
For anyone interested in a horror and adventure novel, The River at Night
will not disappoint. Fans of Hatchet
and the movie
The Cabin in the Woods
will find this book hard to put down. I am sure you will love this book!
Kendra Kodira's Review of:
And Then There Were None by Agatha Christie
Collins Crime Club. 1939. Mystery. E-book

On the enigmatic Soldier Island, ten strangers come together, all being invited to this so-called paradise for various reasons by the secretive host Mr. Owens. Later in the evening,
each guest is harshly accused of a covered-up murder from their past by an ominous voice. As time passes by, the visitors are each confronted with their past choices while struggling to uncover someone amongst them who is silently murdering the guests. Stuck on the island with no escape, the strangers desperately fight to live and grapple with the eerie circumstances that unfold around them.
Though the title of And Then There Were None partially gives away the novel's ending, the jaw-dropping plot twists and final reveal make the compelling story difficult to put down. The mysterious tone and intriguing characters will further hook in readers, bringing them intense feelings of anticipation as they read. Agatha Christe subtly explores the cruelty and depth of the human psyche through the perspectives of the ten complex characters, who can be challenging to distinguish at times. Unfortunately, And Then There Were None, like many others of Christe's iconic classics, has a history of racism and derogatory language that casts an extremely displeasing light on the novel.
Readers who've read One of Us is Lying by Karen M. McManus or watched the film Knives Out will enjoy And Then There Were None as they share great parallels in their absorbing plot twists and wildly unexpected endings.




Alex Troubh's Review of:
Pet Semetary by Stephen King
Doubleday. 1983. Horror.

Louis Creed, a father of two and a rising doctor, wants more space for his family. Louis is given a job
opportunity in Maine that promises money, but also the space that he and his family need. However, when a tragic accident happens, Louis starts to question the little pet sematary close to his house. His dreams take over, and he soon finds out the true meaning of the sematary: reincarnation. He wants to stay as far away as possible from the sematary, but when his son dies he cannot help but to imagine bringing him back.

There is no doubt that Pet Sematary is a horror novel. However, it also incorporates a tough issue and decision making. Louis has the option to bring his son back to life through the Pet Sematary, but with the consequence of him being evil.

For anyone interested in a horror novel, Pet Sematary will not let you down. Fans of The Shining and the movie IT will find a similar mix of horror and terror. I am sure you will love this book!
Classics
Alex Yang's Review of:
Lord of the Flies by William Golding
Faber & Faber. 1954. Allegorical Fiction.
Read in E-book format.

The novel follows a group of British schoolboys who have crash landed on an uninhabited island in a relocation effort from the ongoing war in Europe. Adultless yet not helpless, the adventurous overtones of their primitive societal constructions are gradually overturned via the waves and prods of human vice. Among the slew of displaced youth are Ralph, 'Piggy,' Jack and Simon, who - while initially well-intentioned in leading the effort to establish a semblance of order - are befallen repeatedly for their innocence by the illusion of savagery to all-in-all centralize a bleak reduction of human nature and raise the bouts of reason versus
impulse, moral versus immoral.

The book does a superb job at lassoing the reader into its protagonists' positions, maybe per the injection of anecdotes to create sympathetic backstories or perhaps the sensuous treatment of unity and conflict—the themes which govern our own lives. To contrast this, the reader is given the benefit as an omniscient observer to view the island holistically, see the follies of a character's choices, and to perhaps judge or lend favor to one party versus the other. Moreover, the emergence of two ideological sides builds the notion of a savage plague off a flat premise; the characters contributing dimension to a metaphysical, archetypal tale which feels overall fluid and motivated.

Symbolism sewn and maintained in the core of the characters juxtaposed alongside their surface rivalries are subliminal yet unavoidable. The physical storyline is otherwise linear and enjoyable on its own, and the children being children have easy-to-follow gripes and desires that are conveyed outright or tacitly; this, coupled with the boding allegory adds a sense of completeness to the novel. Like a frame tale, or kaleidoscope of individual personalities, the story recounts the progression of makeshift society from character to character. While the descriptions are beautiful and scrupulously thorough, a small fraction of the European and dated rhetoric might impede understanding on a minute scale and interrupt flow, especially in scenes where the author rather narrates on metaphor and runaround descriptions rather than a candid truth.

For a less spirited, more bleak narrative, fans of The Maze Runner should consider this book for their almost eerie resemblance in plot and character interactions.



Nia John's Review of:
Pride and Prejudice by Jane Austen
Bantam. 1813. Period Romance.
Audiobook.

Pride and Prejudice follows Elizabeth Bennet, the strong and independent daughter of an English countryman, and Mr.Darcy, an arrogant and socially awkward aristocrat, through a journey of love and acceptance. Jane Austen, the author of this beloved novel, creates a vast amount of tension and lust between these characters, so readers can't help but become engrossed in their lives and root them on from the first encounter.

Set in the early 1800s where every young lady's purpose was to find a match, it is seen that a rebellious Elizabeth goes against this as she longs to find a match that will make her happy...even if it means turning down a handful of "perfectly" eligible suitors in the process. She isn't like her other sisters or friends who are willing to accept society's expectations to live a life that is deemed acceptable, but is ready to fight for what she believes in. This is the exact behavior that draws a certain Mr.Darcy to her, because he notices how different she is from all the women he has previously courted.

Throughout the novel, the two learn to understand the meaning of what it is to have pride and prejudice towards the world, and the outcome it perceives. Themes of love, the importance of one's reputation, social class/society, and integrity areshown with not only these two main characters but the all drama that ensues with the others.

If a reader enjoyed any of Austen's other works such as Sense and Sensibility or Emma, or even one of the Bronte sisters acclaimed novels Wuthering Heights and/or Jane Eyre, it is ensured that they will enjoy this novel. And if a reader has yet to experience a British romance novel, they don't call this a classic love story for no reason. Be prepared to be sitting on the edge of your seat, as you devour the love story that is Pride and Prejudice. -NJ 2/26/21



Kendra Kodira's Review of:
The Alchemist by Paulo Coelho
HarperCollins. 1988. Philosophical Fiction/Fable.

Santiago, a young shepherd, is deeply moved by a recurring dream that tells him to seek treasure at the Egyptian pyramids. Following omens, he voyages in search of his treasure,
encountering obstacles that test his will to fulfill his dreams such as fear, love, and self-doubt. On Santiago's journey, he meets many acquaintances, including The Alchemist, a cryptic, wise mentor to Santiago who teaches him unforgettable lessons about his soul and connecting with the world around him.

Paulo Coelho's incorporation of complex metaphors and thematic experiences elevate the fairly simple plot of his novel. Although a bit of a slow reading experience, The Alchemist explores the human spirit in an elegant, remarkable manner. Through the unique, at times perplexing, perspective of Santiago, readers will be inspired and newly understand the paramount significance of following one's dreams and heart.

Readers will love The Alchemist if they've read Yann Martel's novel Life of Pi as it also shares great philosophical depth and a resilient, cunning main character. The Little Prince by Antoine de Saint-Eupéry displays an emphasis on spirituality, relationships, and the complexity of life that any fan will enjoy seeing just as much in The Alchemist.

Available in e-book and audio formats through Libby/Overdrive.


Nonfiction
Angel Liang's Review of:
Being Mortal by Atul Gawande
Metropolitan Books. 2014. Nonfiction.

This book compiles the many aspects of the human's lifespan, including mortality and death, into an overarching question: what do we want to be when we are frail and on the edge of death? Gawande explores the many "solutions" for the nation's elderly with
curiosity about whether the inhabitants of these institutions are truly happy with their lifestyles. Topics included in this book are hospice, assisted living, and retirement homes, all told in a captivating biography form. By including life stories and real-people instances, Gawande makes the book seem more like storytelling, more interesting, and more insightful. The reader is able to connect with these people being interviewed, and gain more insight on the context of the book.
This book makes me think about the struggles of the frail, both mentally and physically. It makes me wonder about how my lifestyle will change when I can no longer take care of myself. Will I be content with my life? Overall, a very insightful and interesting book, indeed. It taught me about something I had never paid attention to in a relatable and insightful fashion. Anyone looking for an eye-opener will be thoroughly intrigued. This is a new type of nonfiction - it isn't boring. It's storytelling.



Nia John's Review of:
The Four Agreements by Don Miguel Ruiz
Amber-Allen Publishing. 1997. Self-help/Personal growth

Going into 2021 now is the perfect time to start planning and becoming the best version of yourself, and the perfect book to start this journey is The Four Agreements by Don Miguel Ruiz.

Not only is this book such a short read that it will take about a day to finish it, but the wisdom that is shared throughout is something that people of all ages can use in their day to day lives. Don Miguel Ruiz creates 4 simple agreements/commandments that if a person lives by they will live a prosperous and overall happier life. The agreements are: Be impeccable with your word, Don't take things personally, Don't make assumptions, and Always do your best.
These agreements are so simple, yet everyone struggles to uphold them. This book will help aid and show people not only how to incorporate these agreements into their everyday person, but explain to them as to why as a society do we reject these agreements and tend to do the complete opposite.
If you are interested in any kind of self-help or personal growth books this is one that I recommend starting with. If you enjoy this book and want to take your journey further, the novel You Are a Badass by Jen Sincero is another personal favorite. It is a lighter and easier book but talks about similar aspects toThe Four Agreements.
Angel Liang's Review of:
Freakonomics: A Rogue Economist Explores the Hidden Side of Everything by Steven D. Levitt & Stephen J. Dubner
William Morrow. 2005. Nonfiction.

Never had an interest in economics? That's completely fine! Freakonomics is a book that is fascinating on so many levels. It explains everyday topics in an unusual way and deepens your understanding in topics that you already may be acquainted with. This
book covers a wide range of topics, from sumo wrestling to real estate agents to Roe V. Wade - so there is most certainly a chapter in this book that will peak your interest. An educational but actually readable and engaging nonfiction book is hard to find, and Freakonomics is definitely among the special ones.

Before reading Freakonomics, I never had an interest in econ; I didn't even know what it was! However, after reading Freakonomics, I not only learned about the topics covered in the book, but I also learned a lot about the study of economics. If I had to explain econ, I'd say that it's like physics! It explains the world, I suppose. I loved the chapters on Roe V. Wade and drug-dealing. I feel like this book has widened my perspectives on these controversial topics infinitely. I feel more informed than before, and intrigued as well.
This book is like an anthology of conspiracies, just laced with facts and evidence. It explores "the hidden sides" of the "conventional wisdom," so if you are looking for a refreshing nonfiction book, I am sure that Freakonomics will satisfy your needs.
Jacob Bleecker's Review of:
Undefeated: Jim Thorpe and the Carlisle Indian School Football Team
by Steve Sheinkin
Roaring Brook Press. 2017. Nonfiction.

Football may be your favorite sport, but it's unlikely that you know the deep history rooted in
the game. Starting his nonfiction book Undefeated in the late 1800s, author Steve Sheinkin highlights the first great player-coach duo in football history: Jim Thorpe and Pop Warner. Together, the two led the Carlisle Indian Industrial School through the school's football hurdles. When they began the game, football was even more physical than today (helmets were just caps, padding was non-existent, every play was a run, and players died on the field at times). Football was dying off, but with a new rule book and the exciting Carlisle team taking the center stage of college football, the game was revived.

Thorpe, Warner and the team broke records in football, Thorpe won medals at the Olympics, and the Indians strived to earn respect. However, to fully understand Thorpe's and Warner's greatness, you will have to read Undefeated.



Jacob Bleecker's Review of:
Proud by Ibtihaj Muhammad
Hachette. 2018. Autobiography.

As part of Sharon's high school summer reading, students must pick a memoir to read for their English class. I would recommend the book I chose, Proud, which is an autobiography written by Ibtihaj Muhammad about her journey to become an Olympic fencer
and an inspiration for Muslim women across the world. Throughout the story, Ibtihaj discusses her childhood because, as a Muslim, she always stuck out amongst her peers. Furthermore, she connects her upbringing with our modern world, making it evident that readers must understand how difficult it is to seem different, and how important it is to love yourself and be comfortable in your own skin.

Many times, Ibtihaj questions her commitment to fencing, finding herself completely lost in her college years and early 20s. However, her fencing coupled with her faith lead her down the right path, but is it enough to become the first Muslim woman to wear a hijab to compete in the Olympics? Read Proud to find out.

Available in e-book and audio formats through Libby/Overdrive.


Kendra Kodira's Review of:
Educated
by Tara Westover
Penguin Random House. 2018. Autobiography.
Tara Westover wanders into her first classroom at age seventeen with no formal education and tremendous self-guilt weighing her down. Raised by strict Mormon survivalists, Tara was
brought up to believe education was a government ploy and a women's purpose was to be a conservative mother. After exploring the world, Tara's perception is forever changed, but on her journey of self-invention, she struggles when forced to decide between her family and her growing education.

Educated is a gripping tale with its compelling, shocking plot full of determination, grief, and new beginnings. Although the conflicts in Tara's life are not relatable to all readers, through her effort to find herself younger readers will feel deeply connected to her. The detailed account of her past experiences and trauma shines a tragic, somber light on the childhood of the Westover children that will make any reader outraged. A sense of gratification and eye-opening consideration for others will be evoked from the overarching theme that many things, including education, are a genuine privilege to some.

Readers will appreciate Educated if they've read Delia Owens' novel Where the Crawdads Sing, a similar story of a resilient girl as she grows and manages to survive her intense, violent childhood. The movie Room, directed by Leonard Abrahamson, depicts a horrifying living situation and a difficult, hopeful journey full of heartbreaking struggles; these situations are also all mirrored in Educated for fans of the film.
---